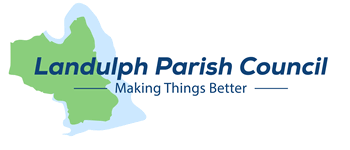 Welcome to the Landulph Parish Council Website
Forthcoming Parish Council meetings
Friday 23rd April at 7.30pm - Landulph Parish Council meeting (PLEASE NOTE CHANGE OF DATE). This Parish Council meeting will be held virtually. If you wish to attend, please contact the Parish Clerk or a Parish Councillor, who can email you with the link and details for the virtual meeting (or alternatively the telephone number if you wish to join by phone). The agenda and previous minutes are available here.
Dates for 2021 Parish Council meetings:
17th May, 21st June, 19th July, 20th September, 18th October, 15th November, 20th December
Parish Council Election
The Parish, Town and Cornwall Council Elections will take place on Thursday 6 May 2021. All seats on all of these councils in Cornwall are due for re-election.
These elections will be run on an election timetable similar to the one used for other polls taking place the same day. These are the:
Landulph Parish Community Broadband proposal
Frequently Asked Questions are available here, and also further information on this proposal is available here.

Those parishioners who have completed the online consent form should receive an email from gigabit.vouchers@notifications.service.gov.uk which is the DCMS Government Department for you to confirm your voucher pledge. Please check your email inbox and spam filters. Please reply now and confirm asap. You do not need to inform the parish council of the details as the pledge details are confidential to you.

It is not a requirement of the Scheme for you to make any payments in advance of the connection being delivered. If you have any questions about the scheme, please contact GBVSHelp@dcms.gov.uk.

Gigabit vouchers are issued subject to the terms and conditions of the scheme and is operated by the Department for Digital, Culture, Media and Sport (DCMS).https://gigabitvoucher.culture.gov.uk/terms-conditions/.


Rosehill Nurseries Planning Appeal Hearing Notification
Rosehill Nurseries Planning Appeal Hearing letter sent to Landulph Parish Council
Landulph Parish Community Volunteers

To access help directly, contact Martin Worth (Chairman) 07949 208055 or Roger Pugh (Co-ordinator) 07753 719483.
Home Choice

Cornwall Council's Home Choice Housing Register is available on the Cornwall Council website
Emergency Procedure for Defibrillator
In the case of a suspected heart attack / cardiac arrest DIAL 999. If appropriate apply CPR and ask someone to collect the defibrillator from Landulph Memorial Hall. Usage instructions, ENTER 1111 then press the tick on the keypad to open the box, remove defibrillator. The unit is designed to be used by anyone, when the unit is opened, voice instruction will guide the user through the process.