Landulph Parish Climate Action Group
Landulph Parish Council supports Cornwall Council's initiative to lead the way and become carbon neutral by 2030 and the Duchy of Cornwall's Zero2028 commitment to become carbon neutral across its estate by 2028.
Landulph Parish Council Climate Change Statement of Intent
The Parish Council has set up a small sub-group made up of parish councillors and parishioners to encourage individuals to make changes to reduce their impact on the environment. This page summarises the recommendations of the group and provide links to further information. If you are interested in contributing to the sub-group please contact:
Katherine Williams, Clerk to the Parish Council
CUTTING YOUR ELECTRICITY COSTS
October 2021
Saving electricity is good for your purse and good for the environment. We all use lots of electrical appliances but do you know which appliances use the most electricity? The Energy Saving Trust now estimate (in January 2021) that washing appliances use the most electricity particularly if you heat your water by electricity and use a tumble drier; but this obviously depends on your household. When you need to buy a new appliance, be aware that the energy labelling has changed in March 2021 to a simple A to G scale (A is the most efficient).
What can you do
Use a lower temperature on your washing machine and reduce the number of washing and dishwashing cycles – do full loads only

Air dry clothes rather than using a tumble drier

Only boil water in the kettle that you need

Cook using the correct size burner and put a lid on pans

Check the door seal on your fridge/freezer, don't overload it, make sure it doesn't need defrosting and that the back is dust free.

Switch off appliances at the plug that don't need to be on standby

Switch off lights and change to LEDs

Take shorter showers

Set water heater to lowest comfortable setting

Turn heating down 1 degree and don't heat rooms you aren't using

Check water and heating times are relevant to your needs

If you have solar energy do washing and dishwashing when the sun is shining!

Investigate using a green energy supplier

Any small changes you make will make a difference.
Sources of Information
BIODIVERSITY
August 2021
Why is biodiversity so important and what has it to do with Climate Change? Biodiversity describes the vast range of interacting living things. For millennia the interaction of these systems resulted in a fine balance between the natural emission of carbon into the atmosphere and the absorption of carbon back into the land and oceans. A wide diversity of species meant failure in one system could be compensated in another and the whole eco system rebalanced. Trees and plants absorb large amounts of carbon as well as providing habitats for a wide range of species.
These habitats are being destroyed by human intervention at a catastrophic rate and the UK is one of the most nature depleted countries in the world. Since the 1930's, 97% of our species-rich wild meadows have been eradicated, 41% of all our species have been rapidly in decline since the 1970's and 15% are nearing extinction.
Reduce biodiversity and we reduce nature's ability to absorb carbon. The carbon accumulating in the atmosphere is accelerating Climate Change – which in turn contributes to the depletion of the species.
Cornwall has been chosen by Government as only one of five areas in the country to become a Nature Recovery Pilot. Sitting alongside Cornwall Council Climate Change Plan it will identify how best the county can protect, restore, and improve local wildlife.
What can you do
Increase diversity in your own garden

Mow high and not until June

Leave wildlife corners

Install a pond

Encourage birds and hedgehogs
Sources of Information
Water Saving
Saving water is not just good for the environment - it can save you money! Even though water doesn't appear to be in short supply in the UK, using less water actually means you are saving energy as treating the water that comes out of our taps is a very energy intensive process. A running tap uses between 6 to 9 litres of water a minute; a dripping tap can waste 5,500 litres a year.
Water butts allow you to capture water directly from your roof and use it in periods of dry weather. According to Waterwise an amazing 85,000 litres of rain falls on your roof every year…..& it's free!! Anything from mini rain saver kits, old plastic drums to purpose made water butts will save water.
What you can do
Don't waste water: fix dripping taps, keep an eye on your water bill and check for leaks if higher than normal usage
Save water in the kitchen: don't leave a tap running, avoid rinsing dirty dishes, run the dishwasher when it is fully loaded
Save water in the bathroom: install water saving toilet flushes and shower heads, turn off taps when cleaning teeth, soaping hands or soaping in the shower
Save water in the garden: install a water butt, mulch your plants, and only water early morning or early evening to reduce evaporation
Sources of Information
Waterwise information on saving water

Eden project tips on saving water
Friends of the Earth 13 best ways to save water
Youtube on water saving for kids
LED Light Bulbs
Switching to LED light bulbs in your house reduces your carbon footprint and saves you money. Typically LED light bulbs use a lot less electricity than ordinary light bulbs (saving £2 - £7 per bulb per year) and last a lot longer (at least 5 times longer). Switching to LED lights in your house could reduce your carbon footprint per year by 63kg and if we all swapped, we would save 1.7 million tonnes annually.

Practically all bulbs are now available as LEDs including fancy ones with mock filaments. This neat little table (from The Lightbulb Company) shows you how to buy the right brightness using lumens.

What you can do
When you need to buy a new light bulb make sure you choose an LED
LED bulbs come in different shades of white so choose warm or soft white for living areas and natural white for working areas
Check the lights you use most frequently and consider switching those to LEDs
Sources of Information
Getting the best out of your LED lighting https://energysavingtrust.org.uk/getting-best-out-your-led-lighting/

Switching to LEDs in 5 steps https://www.thelightbulb.co.uk/resources/ultimate-guide-led-lights-switching-leds-5-steps/
Composting
Composting benefits our gardens by reducing kitchen waste and providing a mini ecosystem all ready to get to work by improving the structure and health of your soil. If you have the space for an open compost heap it will also provide a home and a larder for wildlife including Hedgehogs and grass snakes. Your homemade compost will boost the fertility of your soil without the need for chemicals. It can also help your plants resist disease by increasing water and nutrient retention.
What you can do
Buy a compost bin or make a compost heap
Add the following to your bin: grass cuttings, fruit and vegetable scraps, cardboard, coffee grounds, tea bags (if not containing plastic), eggshells, shredded paper, soft prunings and dead plants
Do NOT add cooked food, meat, fish, bones, cat litter, dog poo, perennial weeds, woody stems, diseased plants
Turn regularly to get air in
When your compost is dark, crumbly and sweet smelling, layer it on as a mulch, the worms will do the rest.
Sources of Information
How to compost your waste https://www.wildlifetrusts.org/actions/how-compost-your-waste
Waste
Something that we can all do something about is waste….and how we can reduce it.

Every tonne of paper recycled saves 17 trees, 7,000 gallons of water, 2 barrels of oil & 4,000kw of electricity, that energy saved can power 1 home for 5 months! The energy saved by recycling just 1 aluminium can is enough to run a television for three hours! Recycling one tonne of plastic bottles saves the equivalent energy usage of a two-person household for one year! Recycling a single plastic bottle can conserve enough energy to light a 60w light bulb for up to 6 hours! The energy saved from recycling 1 glass bottle is enough to power a light bulb for 4 hours.
If each household turned down its room heating thermostat by just 2 degrees or drove just 1 mile less per day, it would save as much energy as is used to make the packaging for its whole year's supply of goods!
The table below shows that there is a task we can all take on. We can all recycle, reuse or compost just a little bit more of our waste that in turn will make a difference.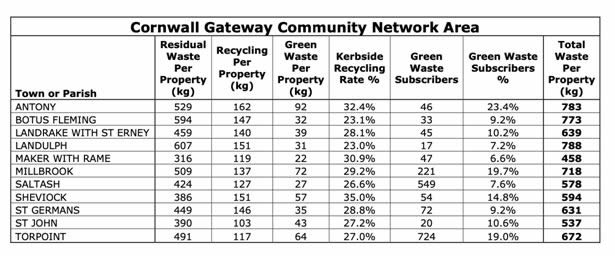 The above table is also available as a pdf document here.

What you can do
Recycle paper: the average family uses 6 trees worth of paper a year
Recycle aluminium cans: the average person has the opportunity to recycle more than 25,000 cans in a lifetime!
Recycle plastic bottles
Recycle glass bottles
Sources of Information
Cornwall Council Recycling, Rubbish and Waste
Trees
Nothing guzzles carbon like a tree; woodland in the UK captures 20 million tonnes of CO2 annually and a study by Defra's science department, Forest Research, says soils store most carbon - a massive 72% of a wood's total. Native woods have other benefits: they enrich the soil, shelter livestock, reduce floodwater runoff, increase biodiversity, produce fruit crops and improve people's mental health all while storing carbon.
Forest for Cornwall is not a single area of a new forest but a Cornwall Council project to significantly increase the canopy cover throughout Cornwall while strengthening the protection of our existing trees, woodlands and hedges.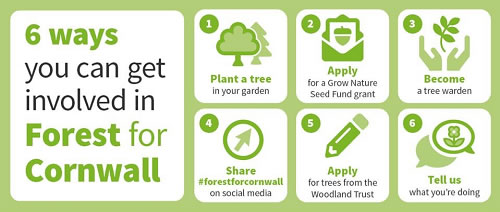 What you can do
The Parish Council are looking for land on which to plant a small number of trees, so if you have a little piece of land you are not using please contact Katherine Williams or one of the Parish Councillors.
Plant a tree in your garden or ask a friend or neighbour to plant a tree on your behalf. Three native trees to consider are Crab Apple, Hawthorn and Silver Birch, all good for small gardens.
This year is a 'Mast' year when trees and shrubs produce a bumper crop of their fruit or nuts, so now is the time to collect seeds from our local trees and see if you can grow your own saplings.
Become a member of the Woodland Trust and fund a tree.

Sources of Information
Climate Crisis
To become carbon-neutral we need to reduce the amount of carbon dioxide we produce and capture the carbon dioxide we do produce to prevent it entering the atmosphere. In this way our impact on the planet will support a positive future for everyone. To achieve this target, businesses, residents and organisations in Cornwall need to work in partnership with Cornwall Council to tackle carbon emissions in the areas illustrated in the diagram below.


Diagram from Cornwall Council's Carbon Neutral Action Plan
Although this is a huge national issue - there is something everyone can do – from the way we work, the way we travel, the way we purchase things, the way we dispose of things, the way we keep warm...and even what we eat. This is something that everyone can make a difference with – lots of small initiatives can have a big effect!

Sources of Information
Duchy of Cornwall Sustainable Stewardship (pdf)
Eden Project - Make the Change
Carbon Footprint Calculator – WWF
Carbon Footprint Calculator – Carbon Independent.org
Support for Electric Charging Points for Small Businesses